Kristen Sander
Recipient of Aimee Willard Award
---
May 4, 1999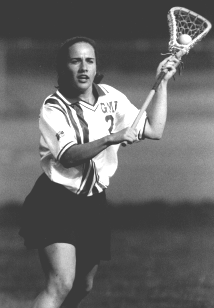 Kristen Sander
Senior lacrosse player Kristen Sander was named the recipient of the Aimee Willard Award to highlight the annual George Mason University Student-Athlete Banquet held recently.
The Aimee Willard Commemorative Award is in honor of the two-sport student-athlete in lacrosse and soccer who was a murder victim in her hometown of Philadelphia in June, 1996. The award is presented annually to the student-athlete who best exemplifies the standards of quality set by Aimee--intensity, consistency of purpose, achievement and teamwork.
A midfielder from Drexel Hill, PA, Sander finished her career in the top five all-time at George Mason in goals, assists and points. She ranks fourth in career goals (52), fourth in career assists (27) and fourth in career points (79). This past season she was second on the team in scoring with 23 goals and 11 assists for 34 points.
As a junior, she was the first George Mason lacrosse player to earn Intercollegiate Women's Lacrosse Coaches Association Academic All-America honors. Sander, a physical education major, is a three-time Colonial Athletic Association Scholar-Athlete. She has also been on the Dean's List and the Athletic Director's Honor Roll.